Vaughan Regional Medical Center Welcomes New Physician to Expand Surgical Services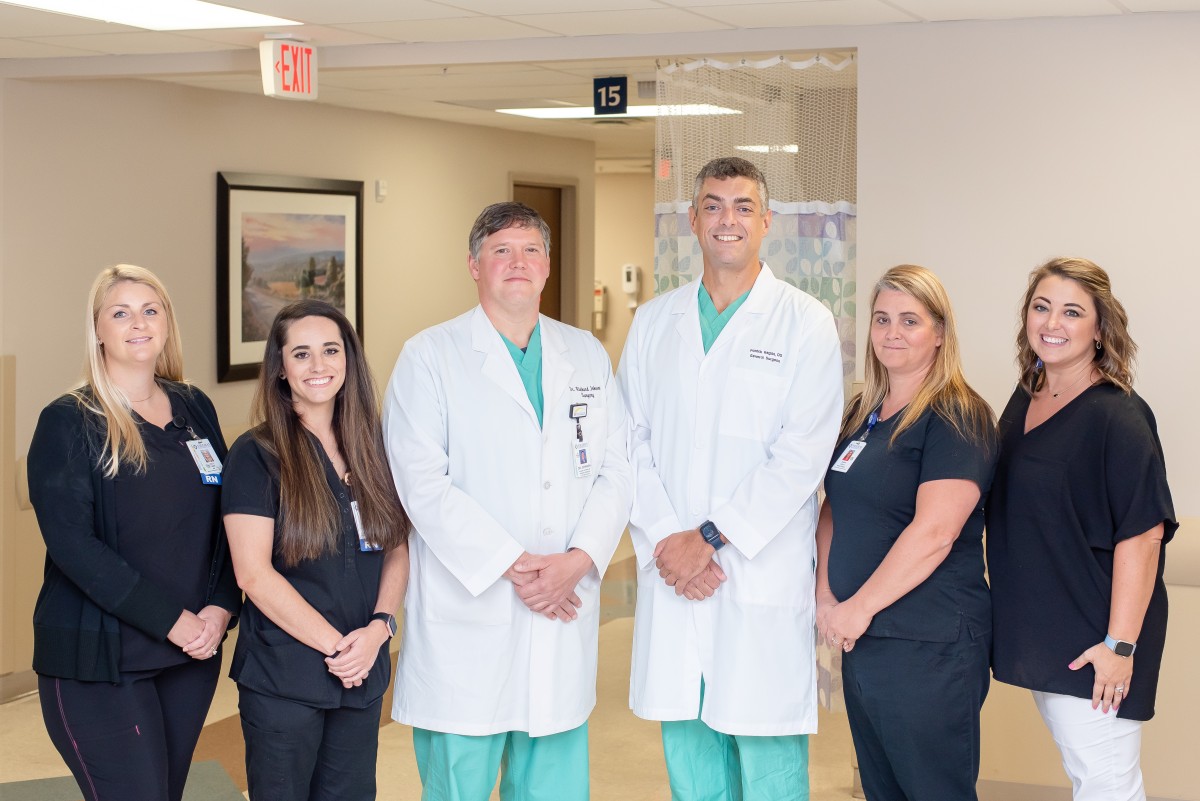 Vaughan Regional Medical Center Welcomes New Physician to Expand Surgical Services
Patrick Regan, DO, Joins Richard Johnson, MD at Vaughan Surgical Specialty Associates on the Vaughan Regional Campus
SELMA, Alabama (October 5, 2022) – Vaughan Regional Medical Center announced today that Patrick Regan, DO, will join Dr. Richard Johnson's practice at Vaughan Surgical Specialty Associates located on the hospital's campus. Bringing Dr. Regan on board will help the surgical clinic expand its capabilities to better serve the Selma community.
"We are excited to have Dr. Regan join Dr. Johnson's team at the Vaughan Surgical Specialty Associates and anticipate improved and expanded surgical services to this community as a result of their collaboration," says David McCormack, CEO of Vaughan Regional. "Dr. Johnson has been a devoted provider for years serving as general surgeon to our community, and the addition of Dr. Regan to his team will only enhance the patient experiences and outcomes at our clinic."
Dr. Regan most recently served as a physician with Weatherby Locums in Indiana. Prior to that, he completed his general surgery residency at Allegheny Health Network in Pennsylvania, earned his doctorate of osteopathic medicine from Lake Erie College of Osteopathic Medicine, and attained a master's degree in forensic science from Drexel University College of Medicine. He earned a bachelor's of science degree in biology and a minor in chemistry from the University of Pittsburgh. During this time, he also worked as an Emergency Medical Technician at St. Luke's Hospital in Pennsylvania.
"Adding Dr. Regan to our team at Vaughan Surgical Specialty Associates elevates the services we can provide to those requiring surgical procedures to improve their health and well-being," said Dr. Johnson, who joined Vaughan in 2015. "Our clinic will not only benefit from an extra pair of skilled hands, but Dr. Regan also brings a complementary skillset that will allow us to expand access and quality care to our community.
"I'm looking forward to getting to know our patients and their families and helping our team at Vaughan Surgical Specialty best meet the needs of those needing surgical procedures," said Dr. Regan. "We are a vital resource to ensure the health and well-being of our community, and I'm excited to be a part of a team dedicated to helping improve our patient's lives."
Vaughan Surgical Specialty Associates provides a number of surgical services, specializing in the following:
Colonoscopy Screenings
Hernia Repair
Thyroid Surgery
Breast Surgery
Gall Bladder
Laparoscopic Surgery
Wound care
To schedule an appointment at Vaughan Surgical Specialty Associates, call 334-418-6652.
Read All Posts