Vaughan Regional Medical Center Opens Area's Most Advanced Catheterization Laboratory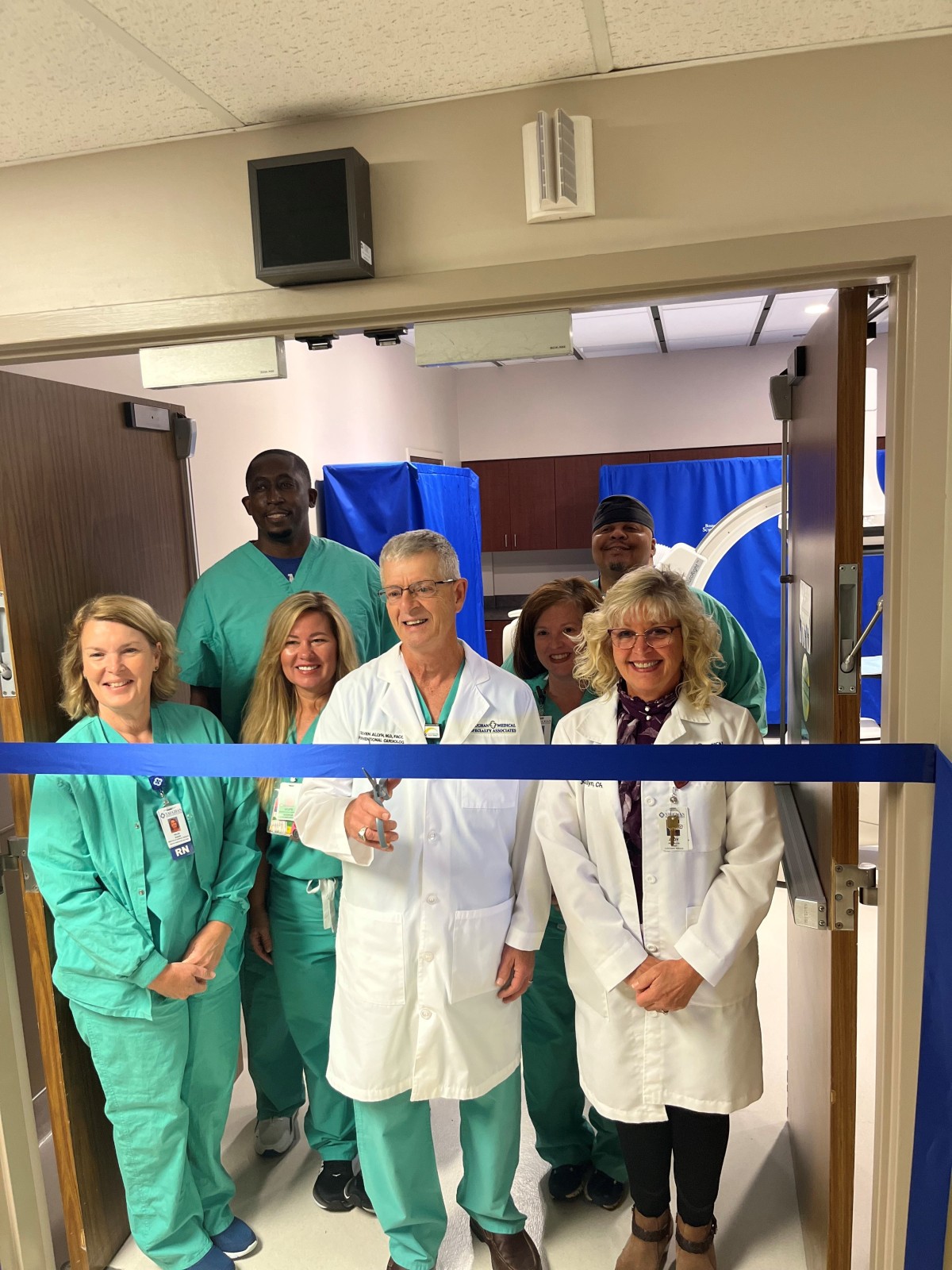 Vaughan Regional Medical Center Opens Area's Most Advanced Catheterization Laboratory
Hospital's investment in latest technology helps physicians better diagnose and treat heart disease.
SELMA, Alabama (November 1, 2022) – Vaughan Regional Medical Center today opened its new catheterization laboratory ‒ featuring an advanced digital X-ray imaging system from GE -- that allows clinicians to not only evaluate the heart but also see extremely detailed, real-time images of patient's cardiac anatomy during procedures that require exacting precision.
The $2.5 million, 963 square-foot lab features The Allia ™ IGS 530 system from GE Healthcare that helps physicians at Vaughan Regional treat a variety of medical disorders including diseases of the heart and blood vessels, such as heart attacks.
"Our new cath lab is an important investment by our hospital into our community's health," said David McCormack, CEO of Vaughan Regional Medical Center. "Heart disease is the leading cause of death in this country, and for people suffering from a severe cardiac episode, every second counts. The faster patients can get access to life-saving interventions – and this cath lab facilitates such interventions ‒ the greater the chances of survival and recovery with minimal heart damage.
"Response time is critical to cardiac events, and this cath lab at Vaughan Regional gives Selma-area residents a potentially life-saving resource just minutes away," added McCormack.
Cardiac catheterization is a medical procedure used to diagnose and treat coronary artery and structural heart disease. The imaging system provides advanced capability for visualization during these life-saving procedures, such as placing a tiny wire mesh tube (stent) in a patient's artery to sustain or recover blood flow. Cardiologists are able to measure pressures within the heart, see how well the heart valves and heart chambers are working, evaluate an enlarged heart, and check for heart defects.
The Allia IGS 5 is an innovative laser-guided imaging system designed to support the most complex cases with greater precision and confidence.
"It is critical for us to see the anatomy very clearly while guiding catheters, stents and other medical devices to areas needing treatment," says Dr. Steven Allyn at Vaughan Regional Medical Center. "The high-quality imaging produced by this lab enables our staff to perform these procedures with accuracy and confidence."
The new cath lab is an important addition to Vaughan's cardiology services, which in August of this year earned accreditation as a Chest Pain Center from the American College of Cardiology (ACC). Hospitals that have earned ACC Chest Pain Center Accreditation have proven exceptional competency in treating patients with heart attack symptoms. They have streamlined their systems from admission to evaluation to diagnosis and treatment all the way through to appropriate post-discharge care and recommendations and assistance in patient lifestyle changes.
Facilities that achieve accreditation meet or exceed an array of stringent criteria and have organized a team of doctors, nurses, clinicians, and other administrative staff that earnestly support the efforts leading to better patient education and improved patient outcomes.
To learn more about the new catheterization lab and cardiology services at Vaughan Regional, visit VaughanRegional.com
Read All Posts