Looking for an opportunity to serve your community? Why not become a volunteer at Vaughan Regional Medical Center! The Vaughan Auxiliary is home to more than 65 local residents who enjoy spending time helping others.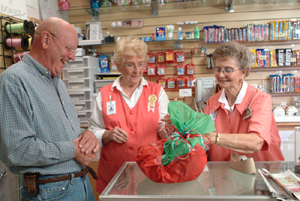 Volunteers have various duties including: transporting patients, delivering mail and flowers and working in the gift shop. Throughout the year, auxilians host several different sales events to raise money for the Vaughan Auxiliary Scholarship Fund. The scholarship program is designed to assist students from Dallas and surrounding counties who attend two and four year colleges and are majoring in a health care field.

Volunteers participate in regional and statewide events for hospital auxiliaries. Most volunteers work one, four-hour shift per week. In addition to working at the front desk or in the gift shop, many volunteer spend their time assisting employees directly in a department. We have volunteers who work in Pediatrics, Radiology and Nuclear Medicine just to name a few!

If you're interested in volunteering at Vaughan Regional Medical Center, come by and pick up an application or call 418-4100 for more information.