PTplus Rehabilitation Services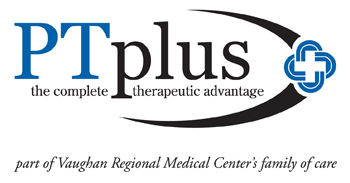 Pediatric to geriatric patients will benefit from the PTplus rehabilitation services. PTplus serves patients with a variety of diagnoses, including:
stroke
total joint replacement
knee surgery
fractures of all extremities
neurological disorders
hand tendon repairs
work-related injuries
trauma injuries
back and neck injuries
developmental delays
all speech disorders and swallowing disorders.
The Occupational Therapist specializes in hand therapy as well as offering the usual occupational therapy. The Speech Therapist specializes in swallowing disorders as well as articulation and cognitive speech disorders.

PTplus also offers the industrial community full services to help reduce injuries in the work place as well as comprehensive worker rehabilitation. PTplus provides testing, treatment, assessments, strengthening, work simulation, education and work hardening. Such comprehensive evaluations as the Functional Capacity Evaluation is a primary part of the industrial service offered.
Get Directions
1013 Medical Center Parkway
Selma, Alabama 36701

PTplus is located in the Frist-Howell Building II next door to the Vaughan Regional Medical Center. If you have any questions about our rehabilitation programs, please call 334-872-2222.